Horny MILF Natascha
Hi there guys! Where have you been in the last couple of days? We have been waiting for you to cum back for more sperma studio! Have you ever had the chance to be invited at a mask party? Cause this nasty babe surely was invited but we have no idea if she got over there! Her name is Natascha and she is one horny MILF for cock! This gorgeous blonde babe thought she might stop on her way to this party at one of the guys that knew how to please her! How about having a look at what happened over there?
As it was pretty fired up this sexy lady she thought she might do something that would chill her a little bit! So she decided to make a pit stop over at this tattooed guy's place and to suck his large cock! This nice blonde didn't even considered taking her mask down, so she took that massive cock out of this guy's jeans and she started to teasing it with her mouth and with her tongue! As she was sliding her tongue all over this guy's tool, she was also playing with this guy's balls! Soon after that she began to slide it slowly deep into her mouth and down her throat and she was doing it now faster and faster cause this cutie was willing to taste that juicy cum that came out from his hard tool! Are you interested in seeing more from where this came from? In this case, you are invited to join us! Don't worry, we are going to show you much more amazing content!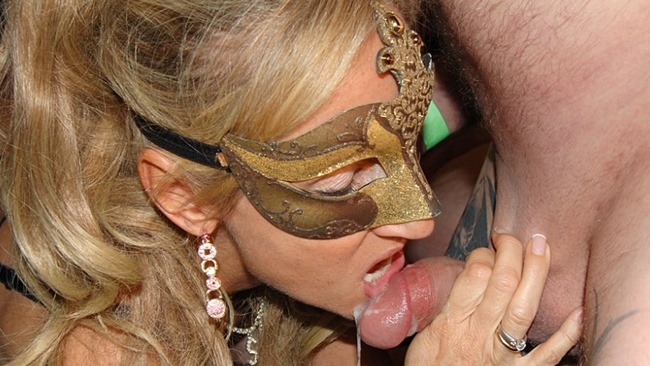 Check out this MILF getting covered with jizz!